Culture Days

time again! We will be missing all the fun in Guelph but will be enjoying some good times with family out of town. Because there is so much going on, I thought I would share some of
the fine events planned with you. Lydia and Gillian will be hosting a hands on print event in the studio (3rd floor of 123 Woolwich St.)on Sunday, check the culturedays.ca website for more information.
This Friday is also a fourth Friday and in Guelph that means lots of wonderful free events are going on.

Click here

for all the details.
I am very sad to miss the wonderful and talented Janet Morton's opening at the Macdonald Stewart Art Centre Friday night at 7pm. Front page of the Guelph Mercury today has all the information. But will be happy to take in the show after the weekend, it runs until November 11th.

Click here

and here to read a couple interesting articles about Janet. Here are a couple examples of her work that I love but you should look her up yourself as she has done so many amazing things with wool that really need to be seen to be believed.
This is one of Janet's installations at the Paul Petro gallery in 2010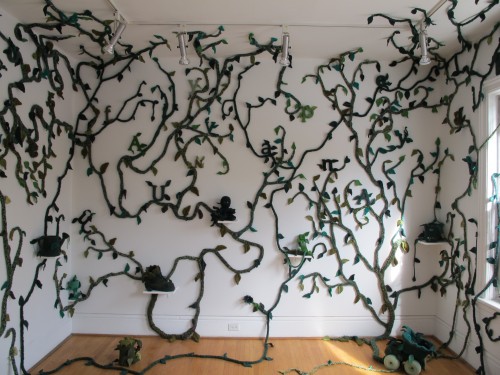 This image is from her exhibit at Museum London, last September.
Graffiti Fest

is happening in downtown Guelph this Saturday, September 29th!
Here are a few good street art examples I noticed outside the RedBrick cafe the other day. The fox is by an Australian artist, Andrew Frazer and Elizabeth Taylor is by a highschool student who did most of their projects this way and then submitted the
photos to their art teacher.